WE ARE GRATEFUL FOR THE SUPPORT OF:  Barker Welfare Foundation, Barnes
and
Noble, Boehringer Ingelheim Cares Foundation, The Box of Rain Foundation, Eric Diefenbach and JK Brown, Fairfield County's Community Foundation, First Student, Inc., The George Link, Jr. Charitable Trust, Kohl's Cares, The Philip H. and Christine Lodewick Foundation, Macy's, Meek Foundation, Pitney Bowes Foundation, Praxair, Union Savings Bank, Rachel and Joe Sondheimer and Whole Foods Market.
Welcome to the Arts in Education program at The Ridgefield Playhouse! The Ridgefield Playhouse is very proud of its commitment to working with educators, students and parents to bring live, curriculum-rich theatrical productions to our stage each school year. Whether it's literature, history, science or cultural content, our shows complement what is being taught in the classroom and bring these wonderful topics to life!
Because of the crucial support we receive from our funders, we are able to keep our ticket prices affordable for all types of school groups. We make a trip to The Playhouse easy, educational and affordable! At The Ridgefield Playhouse:
Tickets are $10 each but for every 20 tickets purchased, you get one for free!
Parking is free and easy. We even invite your bus drivers in to see the show!
Playhouse staff greets your bus and escorts your group to their seats. We also dismiss one group at a time and walk you back to your buses right outside The Playhouse doors.
Our shows are one hour in length and usually allow for a short talk back with cast members.
The Playhouse is handicapped accessible, and we are happy to make arrangements for all of your students' special needs.
Our 500-seat theatre is intimate, has easy access to restrooms and not a bad seat in the house!
Free study guides are emailed to each school to help prepare students for the show and to offer follow up activities back in the classroom.
Title 1 schools can take advantage of our special grant-funded programs:
Funding from our Art for Everyone program enables us to work with Title 1 schools in the area to bring them to The Playhouse free of charge.
In some cases, we provide free tickets and/or free buses.
With some funding, we can also send our Arts in Education Coordinator, who is also at certified teacher, into the classroom to help prepare the students for the show with a pre-show workshop. If you are a Title 1 school and want to start a relationship with The Playhouse, please email Jodi Simon Stewart at artsed@ridgefieldplayhouse.org or call the box office at (203) 438-5795. *Please note that these opportunities are based on what funding and grants the Playhouse is awarded each year.
Refund/Cancellation Policy:
Please note that once seats are confirmed and invoices paid, there are no refunds except in cases of inclement weather. We do not refund for student absences as the seats have been held for you and cannot be re-sold by that time. In cases of school delays or cancellations, we do our best to re-schedule the show or move a group into another show but we will provide a refund if no alternate plan can be made.
Ticket/Seating Policy:
For all Arts in Education performances, tickets are $10 each and for every 20 tickets purchased, you get one for free. Seating is done at the discretion of House Management. The Ridgefield Playhouse is an intimate 500-seat theater and every seat is a good seat. There is an upstairs and downstairs. We work hard to seat multiple large groups of students as best we can. We take into account many factors including date of booking, grade level, special needs, and the goal to try and seat each school as a group. Please note that your seating may be upstairs and in some cases, we need to seat a group in two sections of the theater. If that is the case, you will receive an email ahead of time so that you can plan accordingly.
Announcing our 2017/2018 Season:
Ballet Hispánico: October 13
Velveteen Rabbit: October 18
Mayhem Poets: November 14
I Have a Dream: February 13
Acrobats of China: March 19 & 20
Harry the Dirty Dog: March 23
Ellis Island: April 3
Charlotte's Web: April 26 & 27
Doktor Kaboom: Live Wire! The Electricity Tour: May 3
My Heart in a Suitcase: May 22
---
 BALLET HISPÁNICO
Friday, October 13, 2017 at 10am & 12:15pm
Ballet Hispánico, the nation's leading Latino dance company, brings its second company BHdos to the stage. Students will be delighted with a guided journey through Latin American dance forms and music! Be exposed to world-class choreographers and cultures of Spain, Cuba, Puerto Rico and the Americas, while learning about famous Latino Icons. Our Performances for Young People program is sure to have everyone dancing all the way home!
All ages
THE VELVETEEN RABBIT REBORN
Presented by Pushcart Players
Wednesday, October 18, 2017 at 10am and 12:15pm
A young boy's love and a little nursery magic help transform the Velveteen Rabbit from a favorite plaything into a real rabbit. The Boy and Velveteen embark on exciting imaginary adventures, from deep dark caves to the wide open sea, and together they learn the true meaning of friendship in this musical re-telling of one of America's favorite storybooks.
MAYHEM POETS
Tuesday, November 14, 2017 at 10:00am & 12:15pm 
These theatre trained, comedically gifted, lyrical virtuosos seamlessly blend raw elements of hip hop, theatre, improv and stand up comedy to tell gut wrenching truths that leave audiences forever changed.
Grades 5-12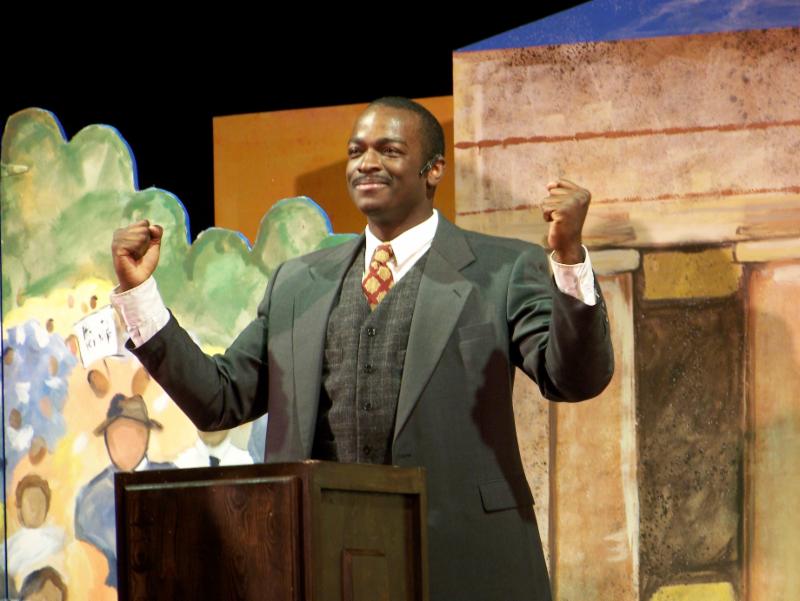 I HAVE A DREAM
Presented by Virginia Rep on Tour
Tuesday, February 13, 2018 at 10:00am & 12:15pm 
The phenomenal impact of Dr. Martin Luther King, Jr. is chronicled in this compelling dramatization of the life and times of one of the most influential and charismatic leaders of the American Century.
Grades 3-8
ACROBATS OF CHINA
Monday, March 19, 2018 at 10:00am & 12:15pm
Tuesday, March 20, 2018 at 10:00am & 12:15pm
This youthful and graceful company enthralls audiences with a range of demanding performances, most of them typifying Chinese circus and constituting a refreshing alternative to the Western tradition.
A wonderful cultural experience for Chinese and Social Studies students of all ages.
All ages
HARRY THE DIRTY DOG
Presented by ArtsPower
Friday, March 23, 2018 at 10am and 12:15pm
Harry has everything a little white dog with black spots could want. There's just one problem: he hates taking baths. He hates them so much, in fact, that one morning he runs away. After a wonderful day spent playing in the dirt, Harry gets so grubby that he turns into a little black dog with white spots… and returns home to find that his family doesn't recognize him! ArtsPower's new musical, based on the classic book by Gene Zion with illustrations by Margaret Bloy Graham, captures both the whimsical humor and touching dedication to family found in Harry's story.
Grades Pre-K – 2
ELLIS ISLAND
Presented by Sundog Productions
Tuesday, April 3, 2018 at 10:00am & 12:15pm 
Ellis Island served as the portal for immigrants coming into the USA from 1892 to 1954. Before it's closing, an estimated 12 million people passed through on their way to a new life in America. This one-hour musical geared towards young audiences captures the essence of their journey.
Grades 3-8  
CHARLOTTE'S WEB
Presented by Theatreworks USA
Thursday, April 26, 2018 at 10:00am & 12:15pm 
Friday, April 27, 2018 at 10:00am & 12:15pm
Theatreworks' production of Charlotte's Web is based on E.B. White's loving story of the friendship between a pig named Wilbur and a little gray spider named Charlotte. This treasured tale, featuring madcap and endearing farm animals, explores bravery, selfless love, and the true meaning of friendship.
Grades K-5
DOKTOR KABOOM: LIVE WIRE! The Electricity Tour 
Presented by Boehringer Ingelheim Pharmaceuticals, Inc.
Thursday, May 3, 2018 at 10am and 12:15pm
Co-commissioned by the Kennedy Center, LIVE WIRE! The Electricity Tour will explore the fundamentals of electrical energy and the history of humanity's adventures into its potential. At the dawn of the 19th century mankind first harnessed the power of electricity, the world changed and the journey still continues.
 Topics covered include: safety; Tesla; Edison; Faraday; lightning bolts, current; voltage; conductive and non-conductive media; electrical arcs; light emission; sparks; resistance; magnetic fields, electric generators: mechanical energy to electrical energy; electromagnetic coils and conductors
MY HEART IN A SUITCASE 
Presented by ArtsPower
Tuesday, May 22, 2018 at 10am and 12:15pm
Anne Lehmann and her family no longer feel safe in their Berlin home. Life in 1938 Germany is deteriorating quickly for the Lehmanns and all Jews living there; in order to protect their daughter, Mr. and Mrs. Lehmann may have to say goodbye to her forever. Anne must struggle to bring meaning out of despair, to cling to love and hope even in a world that seems to be filled with hatred and violence.
ArtsPower's gripping and poignant production about Anne and her family's decision whether or not to send her on the Kindertransport is a tribute to the strength of the human spirit and the enduring power of a family's love.
Grades 4 and Up
Study Guides are available for each show, which provide pre and post show discussion topics as well as individual and class activities. We hope that you will make our Arts in Education programs part of your curriculum this year.
Seats fill up quickly! Please contact me at artsed@ridgefieldplayhouse.org to book your field trip. Do not hesitate to call me with any questions or concerns you may have. Please know, that we have added shows upon request. If you have a special request, please let us know and we will do our best to accommodate you. We look forward to seeing you at The Ridgefield Playhouse this season! Jodi Simon Stewart Arts in Education Coordinator artsed@ridgefieldplayhouse.org or mobile 203-917-9226.